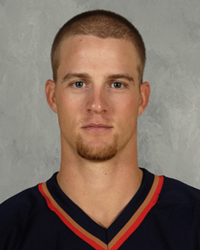 Hot Oil favorite Kyle Hot-Rodziak might be married now (if comment rumours are right) but that won't stop a girl from hopin'! He takes on another young guy who hasn't cracked the Oilers roster, Andrew Cogliano. Each of the boys has a very different look, so this should be a great battle to start the day hot-off off.
Vote now in the comments. :) No Anonymous!
VOTING OVER! SEXY KYLE MOVES ON TO THE NEXT ROUND!